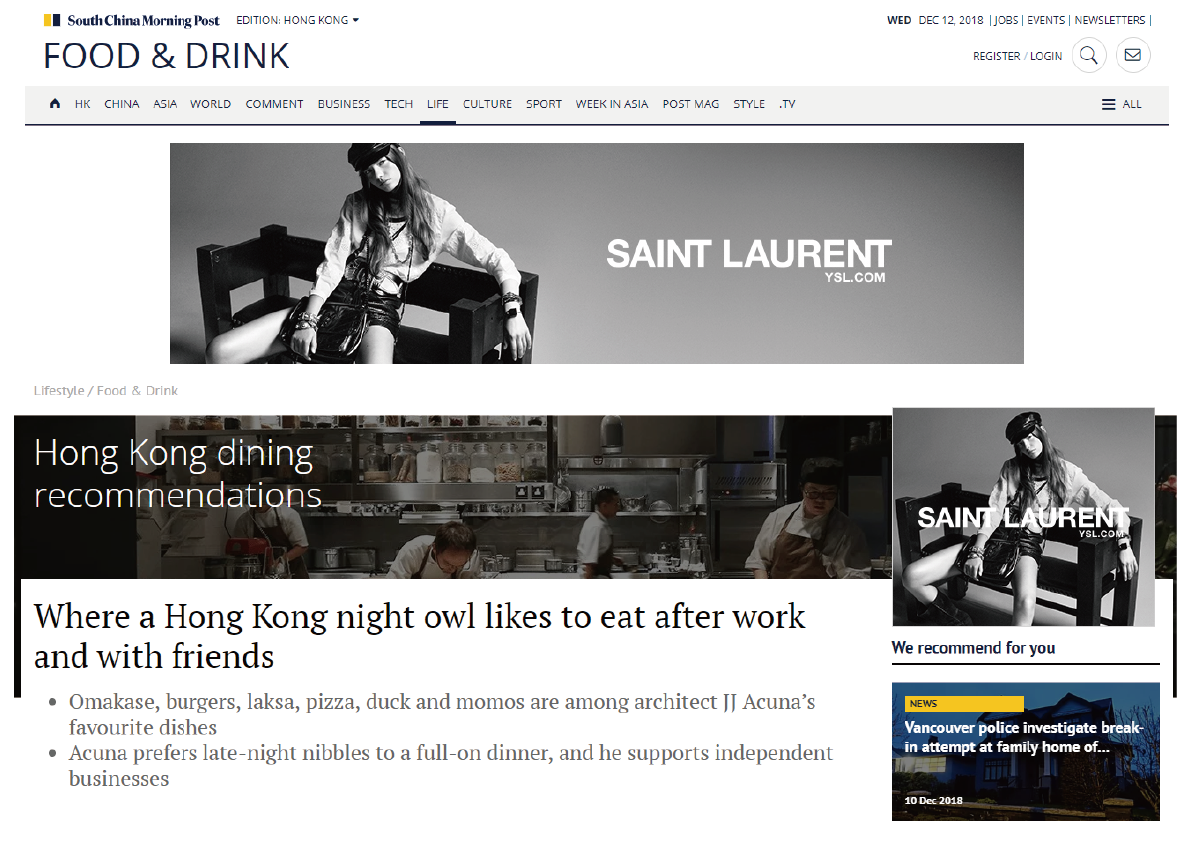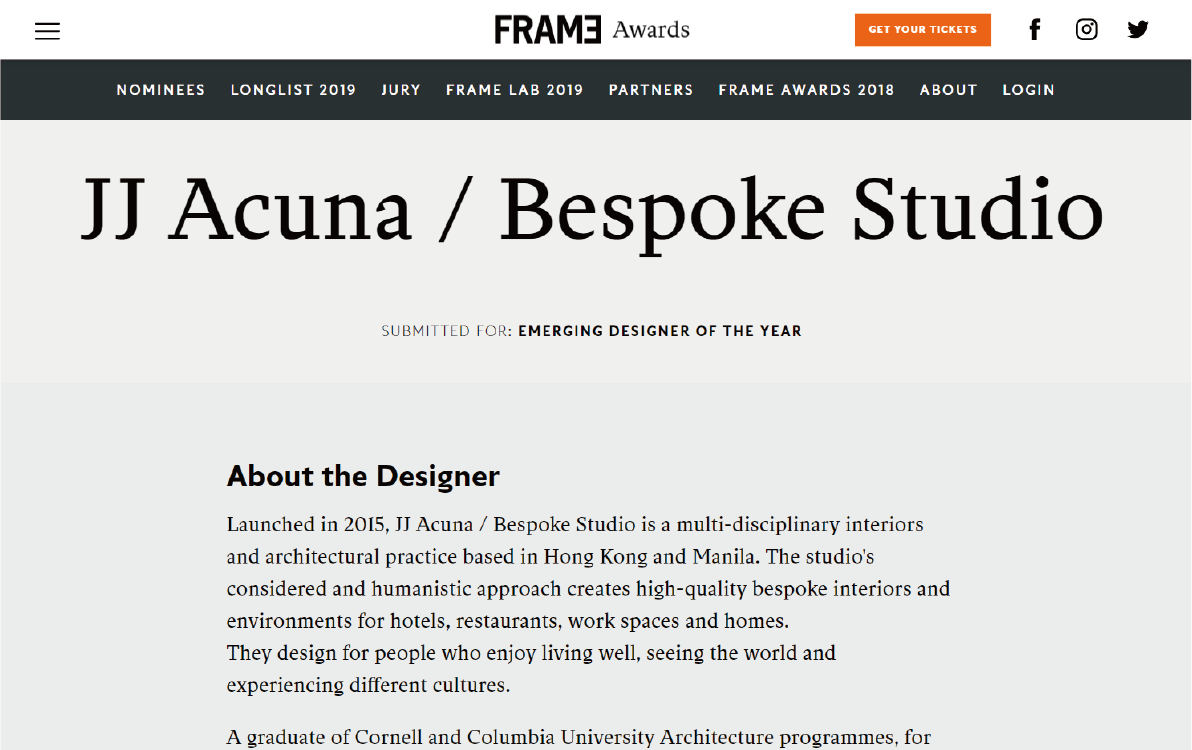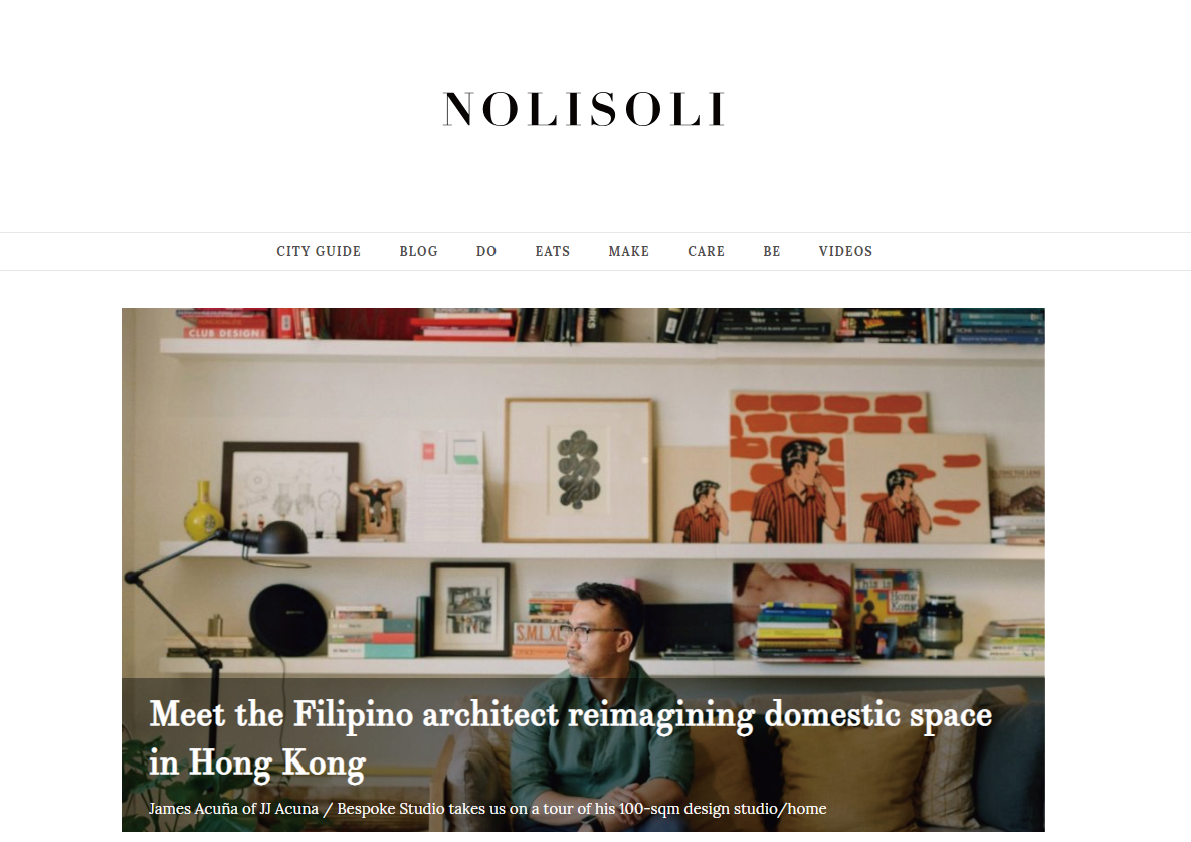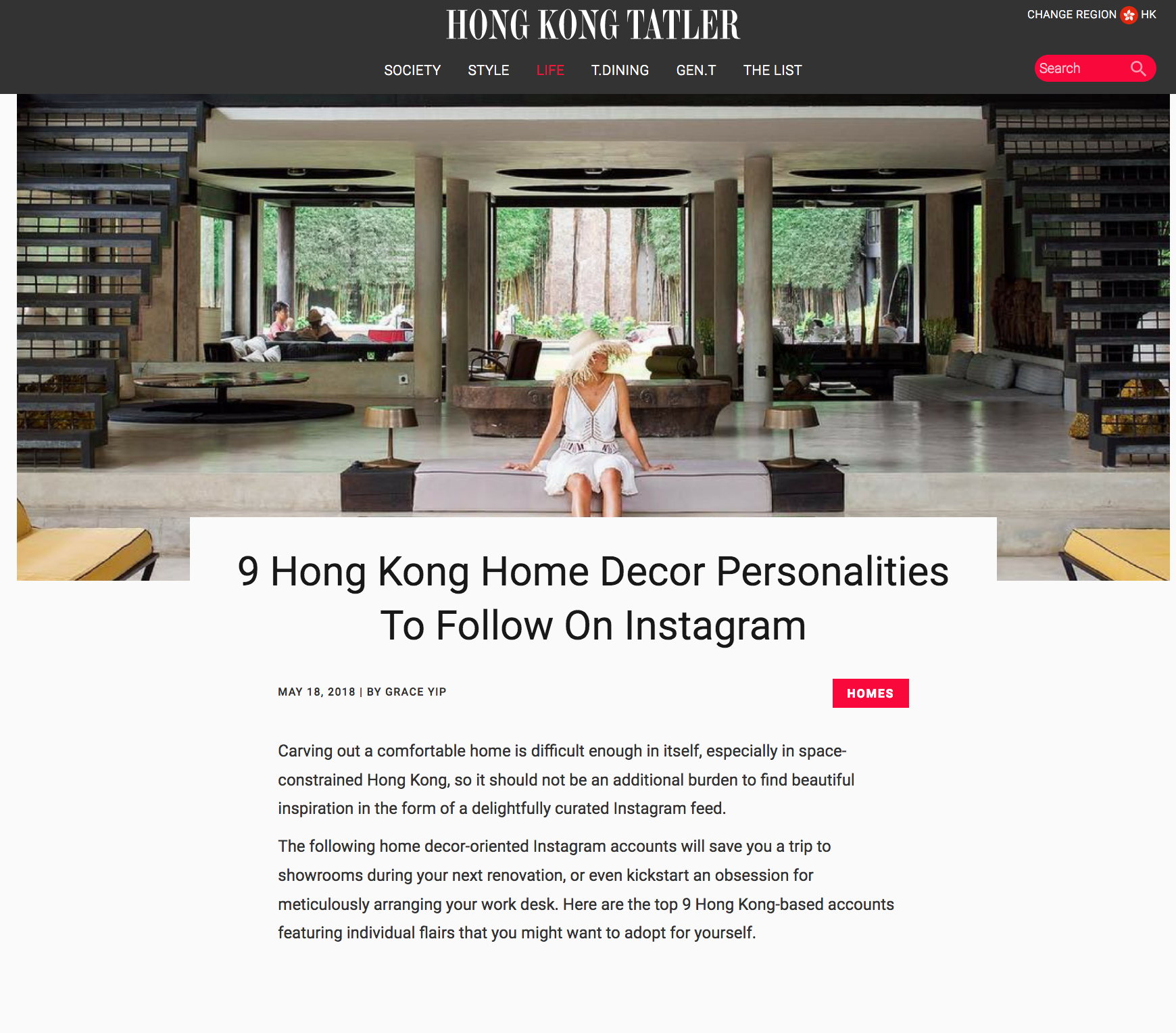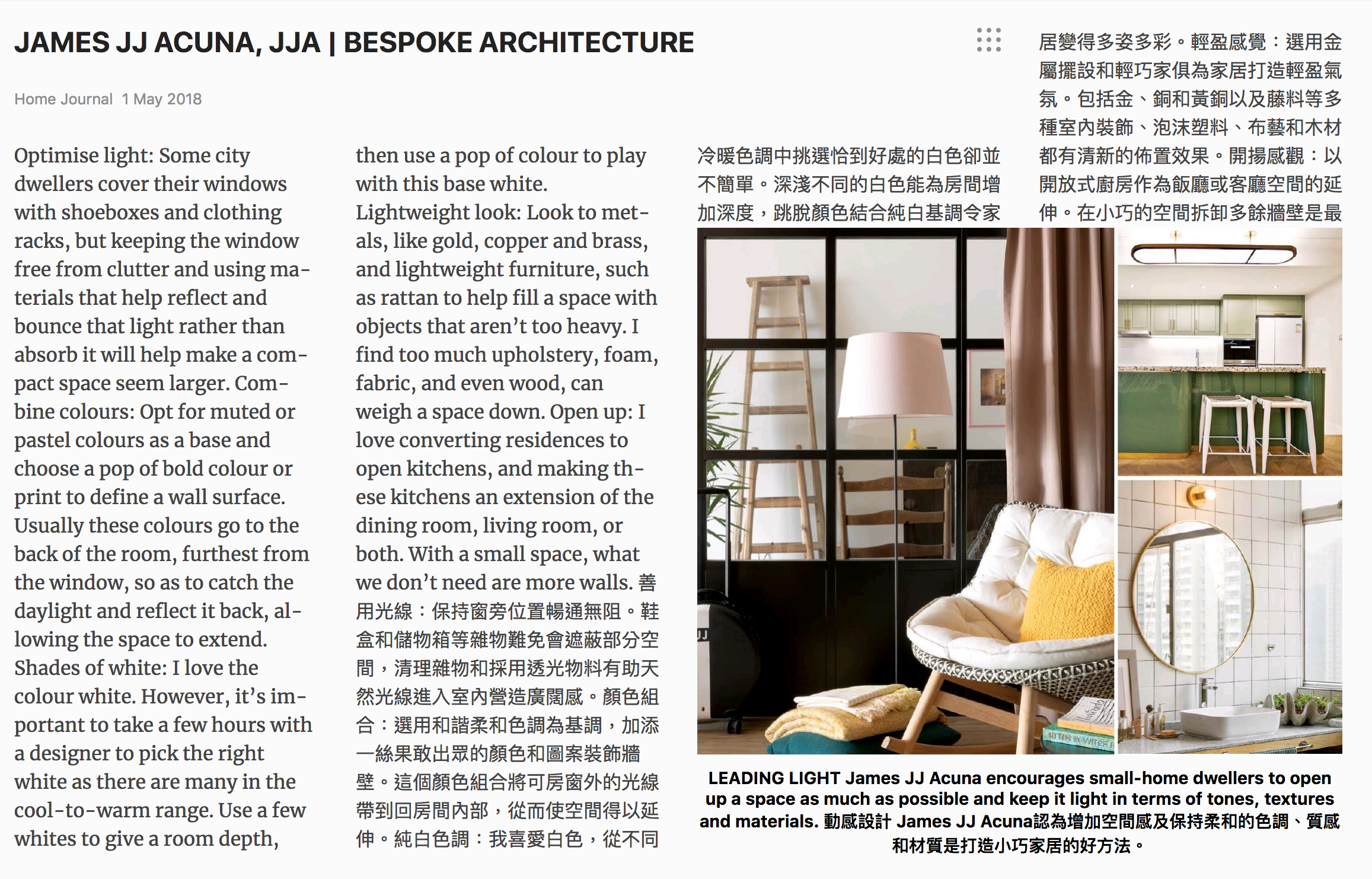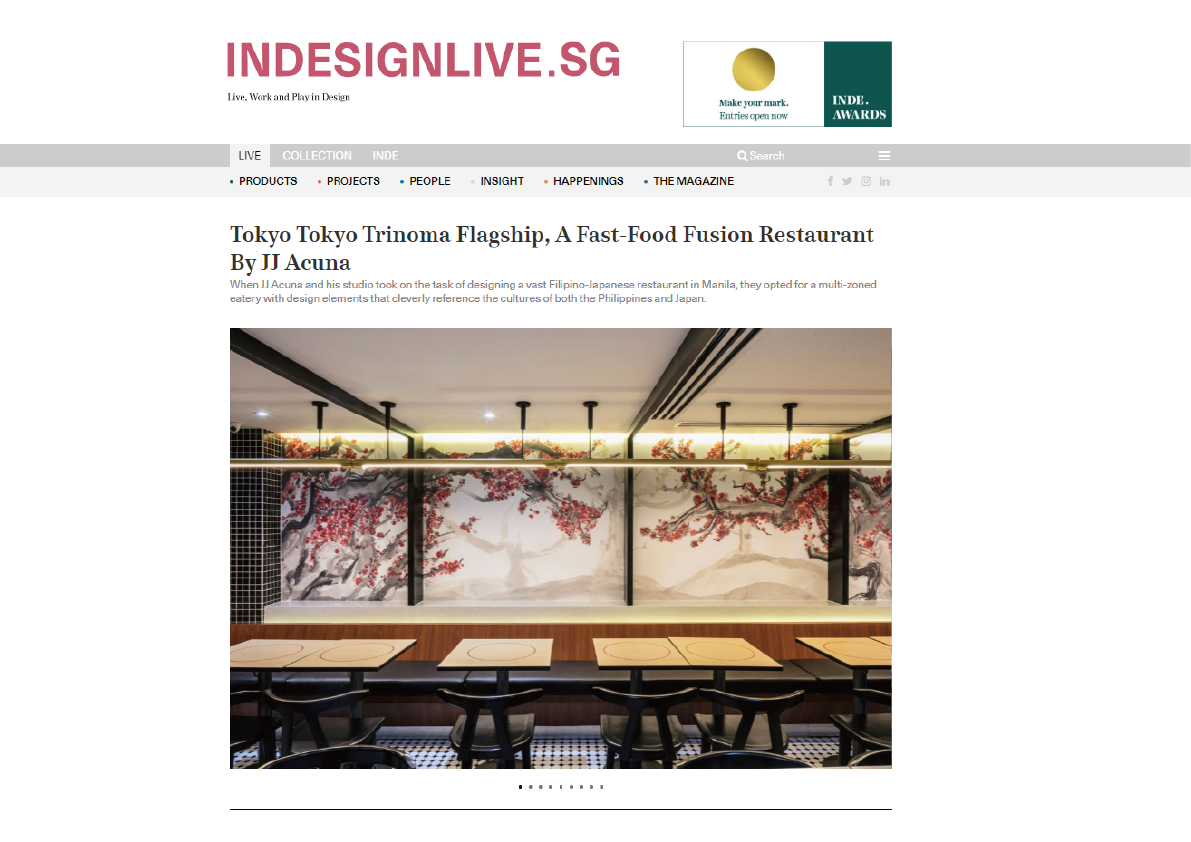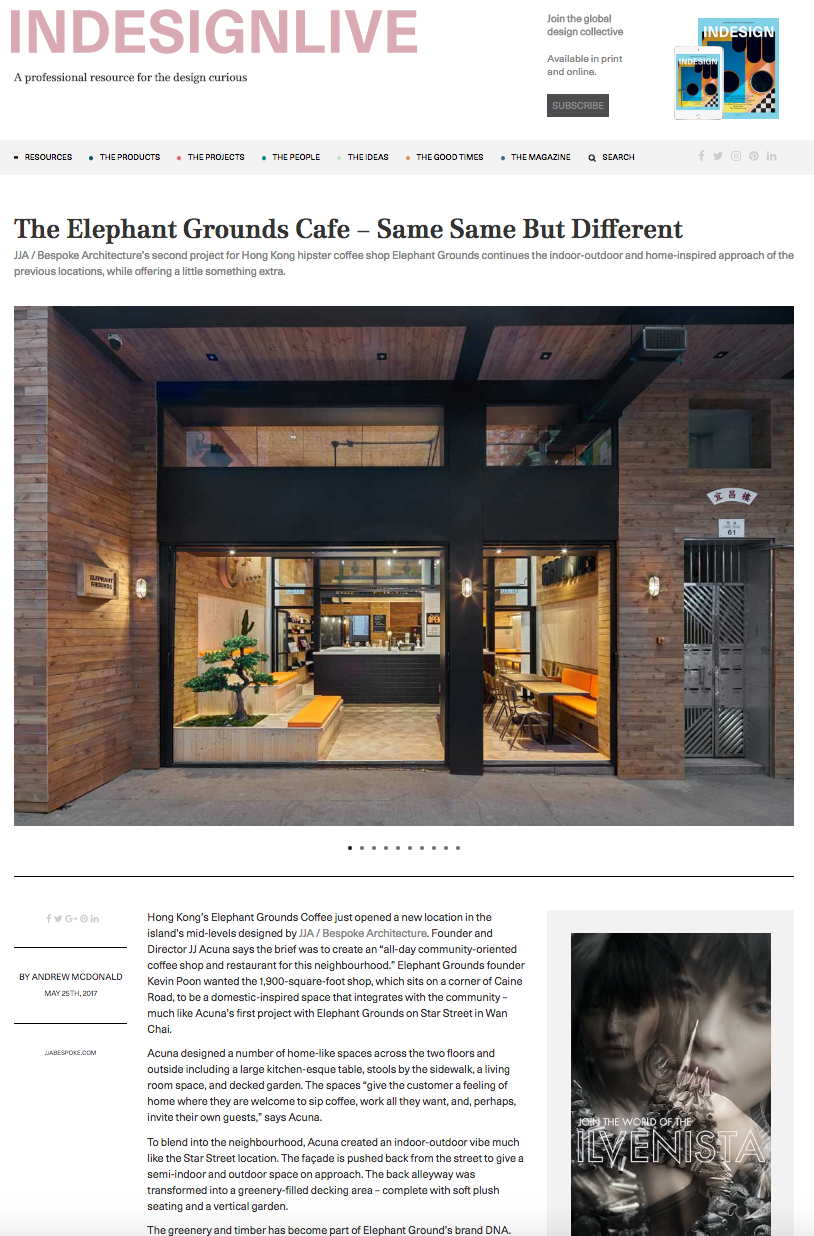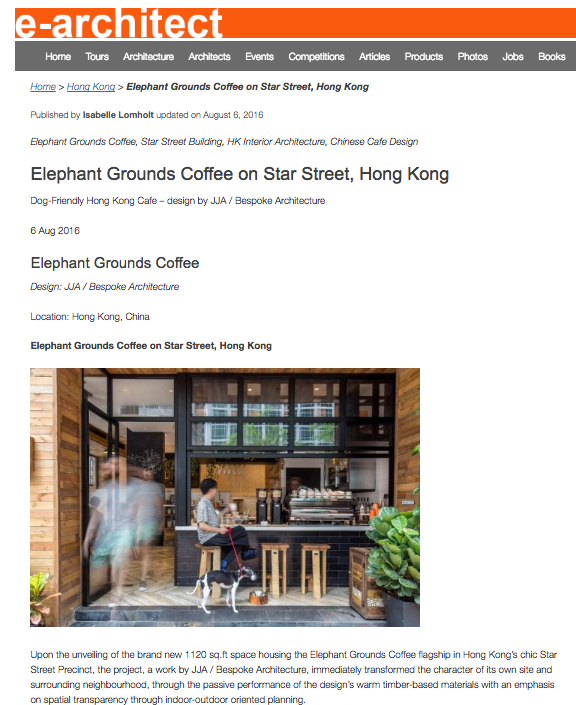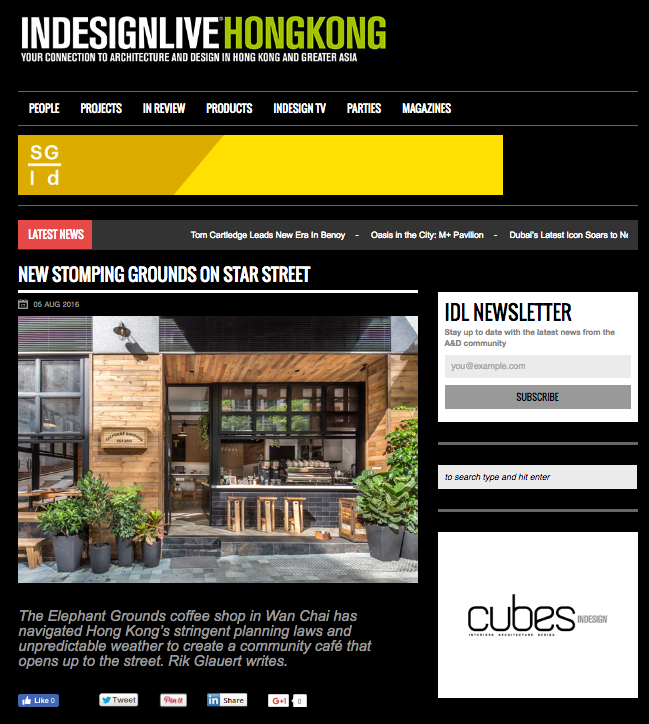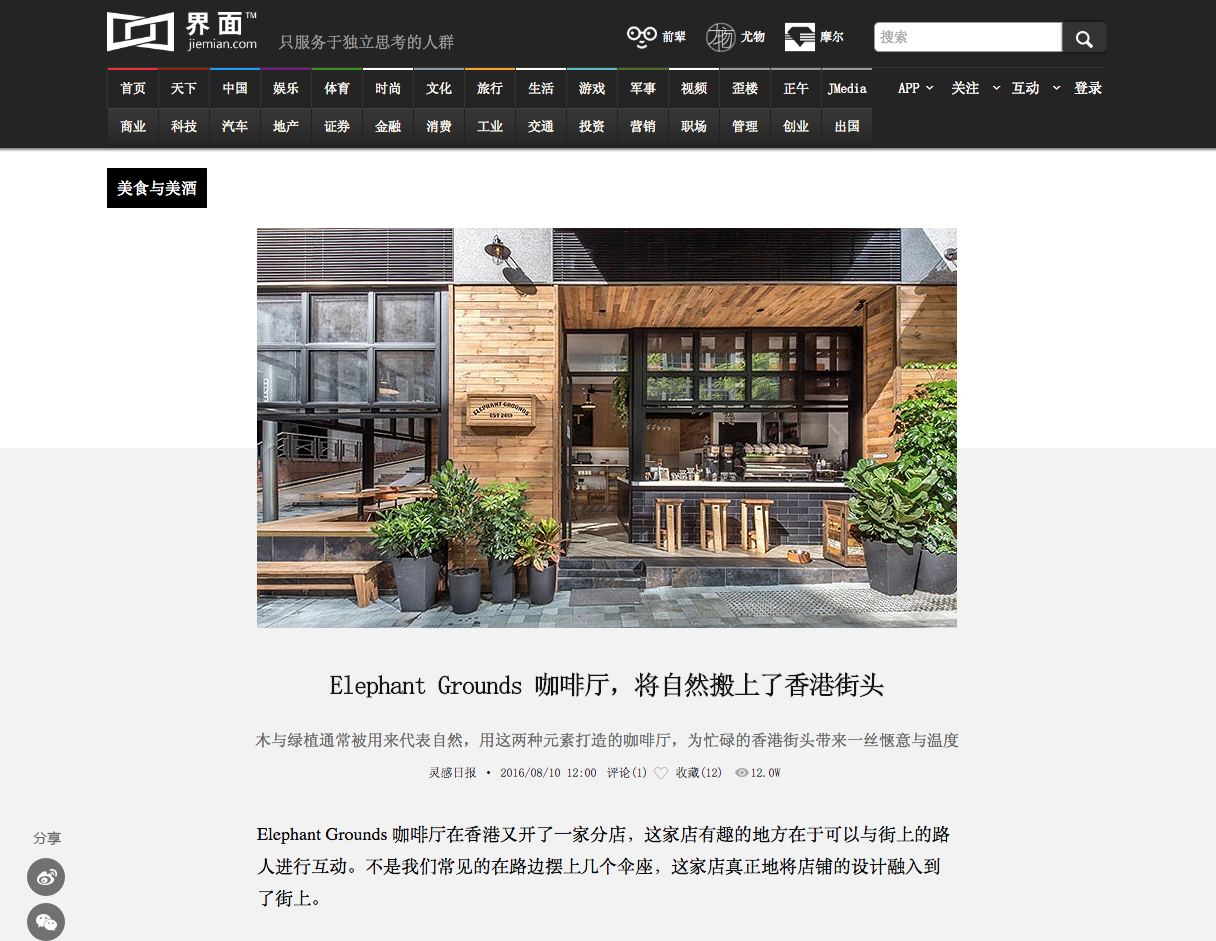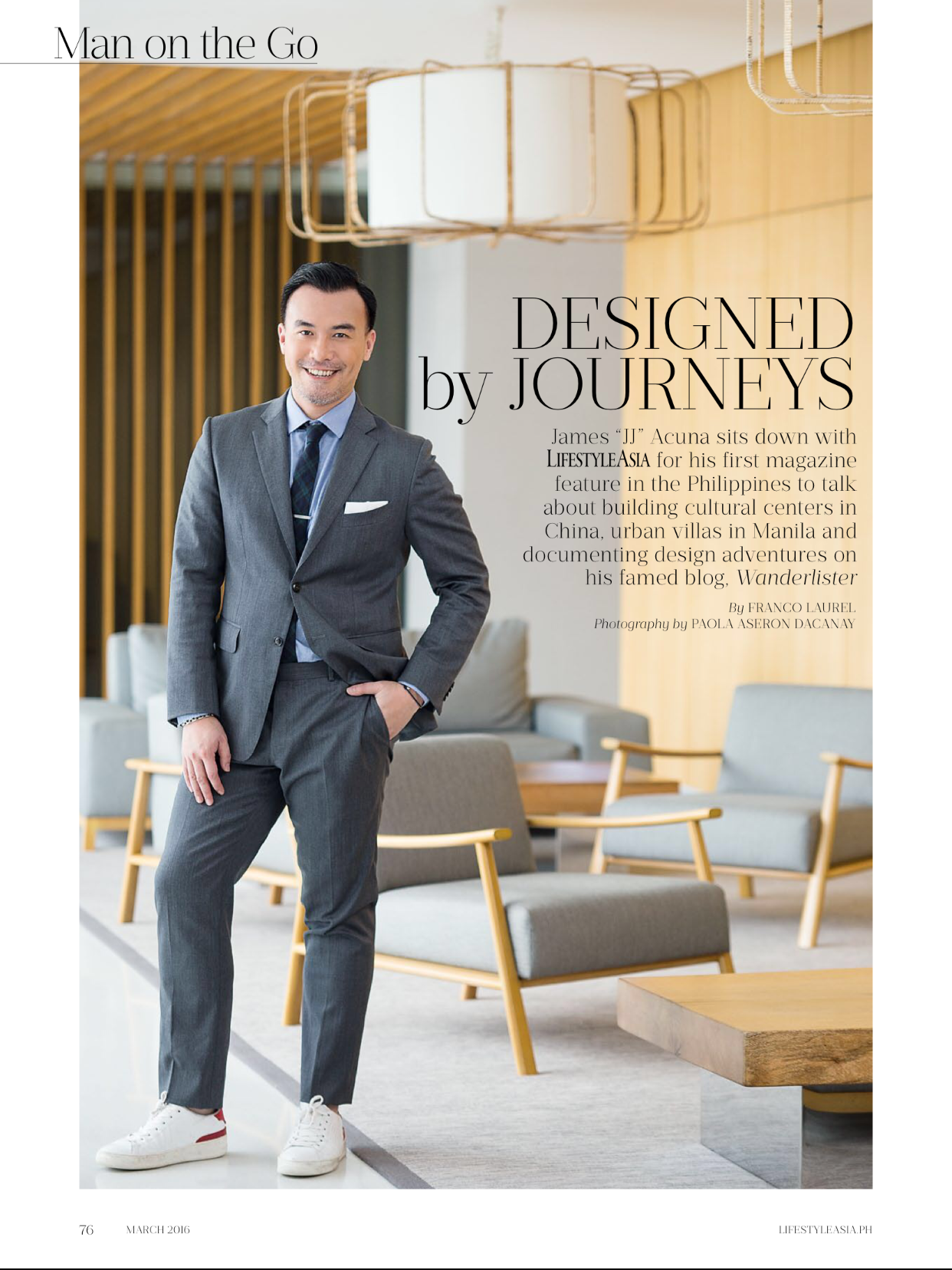 Design Anthology
"Earlier this year at DENFAIR in Melbourne, our editor-in-chief Suzy Annetta sat down with JJ Acuna, founder of Hong Kong and Manila-based JJ Acuna / Bespoke Studio, Caroline Olah, whose furniture brand Reddie has its factory in Central Java, and Jon Liow, co-founder of interdisciplinary Australian firm One Design Office."
August 2019
F&B Report
"For its work on Tokyo Tokyo's flagship store, JJ Acuña / Bespoke Studio was recently awarded the Best Restaurant Architecture and Interior Design Firm – Southeast Asia award at the 2019 Build Architecture Awards. "
July 2019
CNN Philippines: LIFE
"What is apparent is there's a lot of warmth inside the newly-built café in Taguig, owing not just to the wooden interiors and its laidback design, care of JJ Acuna / Bespoke Studio, but also to the precision and detail by which Concepcion articulates a vision, and then takes his time executing it until it fulfills a standard."
May 2019
SPOT.PH
"The wood-heavy interiors with lots of space and plenty of plants were designed by JJ Acuna / Bespoke Studio, which also worked on the Hong Kong branches. The stools are silk-screened with Elephant Grounds' vintage-inspired logo—done by HK-based artists Start From Zero."
May 2019
South China Morning Post
"Designer James JJ Acuna on creating a space that caters to the millennial market
The creative director of eponymous Hong Kong- and Manila-based studio, talks about the design ingredients behind The Central Sweets dessert hall at The Central, in Yangon, Myanmar."
April 2019
South China Morning Post
"Every designer needs to tell their client that there's a difference between a restaurant that looks good in photos, and, basically, theme parks," JJ Acuna says.
"As interior designers, we want to make spaces that people will come back to again and again. If you make it too 'themey', people will go once, feel like they've experienced it, and never come back again."
February 2019
Design Anthology Awards
Following months of submissions, short-listing and deliberation by an esteemed panel of industry experts, the results are in. Here is the complete list of winners of our inaugural Design Anthology Awards.
February 2019
LANECRAWFORD.COM
James JJ Acuña, founder of JJA / Bespoke interior design and architecture studio, is renowned for his distinctive, self-described "creative, relaxed and masculine with flair" style. It turns out he's a natural experimenter – but taste also runs in the family.
February 2019
F&B Report Magazine
"Thinking About Rebranding? You Have Take A Look At Whether It Reflects Your Company Values, Mission, and Purpose, Just as Tokyo Tokyo Did with its Tokyo Tokyo's decision to partner with Hong Kong-based multi-disciplinary JJ Acuna in redesigning its 3,750-sq ft flagship store in Trinoma."
December 2018
Design Anthology Awards
JJ Acuna / Bespoke Studio nominated for Interior Designer of 2019 by Design Anthology Awards.
December 2018
South China Morning Post
"JJ Acuna often finishes work late and chooses restaurants that offer 'cool, chill bites'. "*
*Note JJ Acuna / Bespoke Studio is a Concept Architecture and Interiors Design Studio only. The Studio is not registered to provide full-Architectural services in Hong Kong. 18.12.27
December 2018
FRAME Awards
"This new office, named JJ Acuna / Bespoke Studio, has within its less than three years of operation, designed about 14 lifestyle projects in total, with about 10 more projects undergoing various stages of completion." - JJ Acuna / Bespoke Studio long listed for Emerging Designer of 2019 by Frame Awards.
December 2018
NOLISOLI Philippines
"It is refreshing to see and live in spaces that deviate from the sea of mobile houses and tiny apartments in cramped cities like Hong Kong. Architect and interior designer James Acuña knows this all too well."
October 2018
Philstar
"Renowned Filipino architect and interior designer James JJ Acuna of Hong Kong- and Manila-based JJ Acuna / Bespoke Studio recently gave tips for those who are planning to start a restaurant business."
October 2018
IndesignLive Magazine
"When JJ Acuna and his studio took on the task of designing a vast Filipino-Japanese restaurant in Manila, they opted for a multi-zoned eatery with design elements that cleverly reference the cultures of both the Philippines and Japan."
September 2018
DestinAsian Magazine
"Locally born architect and designer James J.J. Acuna shares his favorite spots in the ever-evolving Philippine capital."
August 2018
Design Anthology
"Acuna and his studio also custom designed several one-off pieces for the home including a light fixture that floats above the kitchen island and two Windsor-style chairs. By deputising a small team of talented craftspeople, Acuna has achieved what any homeowner working with a designer want — something personal and tailored, and perfectly set for making memories."
June 2018
Hong Kong Tatler
"Celebrity designer and opinion leader JJ Acuna, who has offices in Hong Kong and Manila, presents beautiful design solutions for local and international clients."
May 2018
Home Journal
"I love converting residences to open kitchen, and making these kitchen an extension of the dinning room, living room, or both. With a small space, what we don't need more are more walls. "
May 2018
Home Journal
"Peripatetic architect and design opinion leader JJ Acuna is a man of many hats – along with running his design and travel blog theWanderlister+, his studio JJA / Bespoke Architecture with offices in Hong Kong and Manila, he also teaches part time at the Insight School of Interior Design. "
May 2018
Hong Kong Tatler
"Brick-lined walls with large Chinese ink-paintings and colourful tile murals bring a contrasting sense of old and new to the space. An abundance of wooden furnishings lines the lengthy space, where guests can settle in on evenly-scattered tables. "
May 2018
Grana - The Modern
"I want all my clients to read Marie Kondo, not because everything has to be Japanese and empty, but because when there's less clutter in a space, objects within it can be better appreciated. "
April 2018
Eat and Travel Weekly Hong Kong 《飲食男女》
"於赤柱以烤鴨打響名堂的Pinot Duck,最近於灣仔聯發街開分店。新鋪由居港外籍設計師JJ. Acuna操刀,對比赤柱店,灣仔店的裝潢糅合了中西方的特色,略帶懷舊風格。"
April 2018
Pacific Place Hong Kong Magazine
"We visited JJ at his new live-work design studio and found out - enjoy his contemporary space that's both put-together and relaxed, like the man himself. "
March 2018
Design Anthology Magazine
"A bit of Indochina charm in Hong Kong"
February 2018
IndesignLive Magazine
"Fronting the Back-of-House at Morty's Delicatessen"
August 2017
retail design blog
Morty's Delicatessen on Star Street by JJA , Hong Kong
July 2017
Contemporist
"10 Unique Coffee Shop Designs In Asia"
February 2017
PERSPECTIVE ANNOUNCES WINNERS OF 40 UNDER 40 AWARDS 2017
"Hong Kong's leading design awards dedicated to recognise young talents across Asia marks its 11th anniversary this year. In the 2017 edition, 40 winners were meticulously selected from a record number of nominations in four design fields — Art, Architecture, Interior design and Product design, The outcome is based on the talents' professional achievements, contributions to the industry, and potential for future development and growth."
May 2017
IndesignLive Magazine
"To blend into the neighbourhood, Acuna created an indoor-outdoor vibe much like the Star Street location. The façade is pushed back from the street to give a semi-indoor and outdoor space on approach. The back alleyway was transformed into a greenery-filled decking area – complete with soft plush seating and a vertical garden."
May 2017
IndesignLive Magazine
"Acuna designed a number of home-like spaces across the two floors and outside including a large kitchen-esque table, stools by the sidewalk, a living room space, and decked garden. The spaces "give the customer a feeling of home where they are welcome to sip coffee, work all they want, and, perhaps, invite their own guests," says Acuna.
May 2017
IndesignLive Magazine
"Acuna's favourite part about the project? 'The opportunity to work with a concept from a feminine perspective that is all about warmth and softness. But it's a kind of femininity that is not passive, it's actually quite sure-footed and aggressive, like it stands for something,' he tells us."
May 2017
Wallpaper* magazine
"Tasking Hong Kong-based architect James Acuna, Lau has together with Acuna, produced a crisp, understated design in a sorbet palette of soft pink and natural bleached timber, softened by sensuous upholstery and subtle lighting."
April 2017
Hong Kong Tatler Dining
"The pretty pastel, marble and copper interiors of the new Tate—designed and executed by rising star James JJ Acuna—provide a beautiful dining environment. "
March 2017
Archdaily
"Seen as a next-generation version of the destination restaurant in Hong Kong, Acuña, in collaboration with branding consultant, Olivia Pong and graphic designers, Entendre Studio, conceptualised a true-to-Hong Kong, yet non-kitschy representation of the Little Bao brand that looks forward to the world, yet still honours its Hong Kong roots, romanticised through design details and elements which hark back to the glamour of the Old World Chinese cafe and Hong Kong 80's pop nostalgia. "
January 2017
The Philippine Inquirer
"James JJ Acuna, founder and editor of the Wanderlister+, is an architect and interior designer based in Hong Kong and whose love and fascination for his craft have brought him tremendous success and respect from among peers. An individual who loves to travel and explore the world, Acuna gets much of his inspiration from his daily encounters and experiences."
January 2017
Mabuhay Magazine
COVER FEATURE "Haunts of Hong Kong- Trendspotter and architect JJ Acuna reveals his Fragrant Harbor Favorites"
January 2017
The Design 100
"The Elephant Grounds Coffee Shop in Hong Kong's chic Star Street Precinct", wins the Silver Award in the Hong Kong Design Awards for 2016.
IndesignLive Magazine
"The architect, designer and founder of theWanderlister+ has been busy lately. Tamsin Bradshaw grabs coffee with the man-of-many-hats to find out about his new studio, and to hear what's happening in his world."
September 2016
Hypebeast
"Cult-Favorite Diner Little Bao Opens up New Space in Bangkok. The famous bao burger is making its way to Thailand."
September 2016
Hypebae
"Little Bao now heads to Bangkok, where it will be opening its first-ever location in Thailand. Right from the get-go, fans of the restaurant will recognize the brand's famed pink neon sign in the shape of a rather adorable "buddha baby." For its new Thailand-based restaurant, design studio JJA/Bespoke Architecture by James JJ Acuna, collaborates with branding consultant Olivia Pong and graphic designers Entendre Studio for a space that harks back to the glamor of Old World Chinese cafes and Hong Kong's nostalgic '80s pop aesthetic."
September 2016
Photo Zhulong
"对于设计师们和顾客来说,咖啡店的边角区域是一个表现日常咖啡重要性的良好地点,因为无论是对于周边的业主居民还是办公室职员来说,咖啡已经成为了日常生活不可或缺的一部分。Elephant Ground的成功之处在于,它用一种简单的方法,将不同类型的消费群体桥接在一个更为开放和怡人的休闲环境当中。"
September 2016
Wallpaper* magazine
'The food is quirky and modern, so I wanted the interiors to mirror this tone,' says the Hong Kong-based designer, JJ Acuna of JJA/Bespoke Architecture. 'The elements are all essentially "Hong Kong" in form and exist all over the city, but our placement and choreography makes it one-of-a-kind for Thai diners.'
September 2016
Jiemian.com
"Elephant Grounds 咖啡厅,将自然搬上了香港街头
木与绿植通常被用来代表自然,用这两种元素打造的咖啡厅,为忙碌的香港街头带来一丝惬意与温度"
August 2016
Retail Design Blog
"Upon the unveiling of the brand new 1120 sq.ft space housing the Elephant Grounds Coffee flagship in Hong Kong's chic Star Street Precinct, the project, a work by JJA / Bespoke Architecture, immediately transformed the character of its ownsite and surrounding neighbourhood, through the passive performance of the design's warm timber-based materials with an emphasison spatial transparency through indoor-outdoor oriented planning."
August 2016
Home Journal
"Open Studio: JJA / Bespoke Achitecture. While finance and property may rule the city's skyline, Hong Kong is also fast becoming a hub for creative entrepreneurs. Old and buzzing neighbourhoods alike are home to start-up ventures—not surprising given the city's long history with cultivating and growing businesses. We speak to architect JJ Acuña of JJA / Bespoke Architecture—which most recently did the interiors of the fourth branch of home grown coffeehouse Elephant Grounds, newly opened earlier this month. JJ tells us about founding his new design practice right here in Hong Kong."
August 2016
Wallpaper* magazine
'I've also always wanted to diminish the formal line of the back-of-house versus front-of-house by designing a low coffee bar to make it feel like you are being served at someone's own kitchen at home,' says designer JJ Acuna.
August 2016
e-Architect UK
"The project's corner site was an opportunity for the designers and client, to give importance to the all-day-cafe as it becomes a natural intersection for the area's tenants and office workers' daily activities."
August 2016
The Contemporist
"Designed by James JJ Acuna of JJA / Bespoke Architecture, the coffee shop named Elephant Grounds has transformed this corner site and the character of the neighborhood by using warm materials and emphasizing indoor-outdoor engagement."
August 2016
IndesignLive Magazine
"The Elephant Grounds coffee shop in Wan Chai has navigated Hong Kong's stringent planning laws and unpredictable weather to create a community café that opens up to the street. Rik Glauert writes."
August 2016
Hypebeast
"Elephant Grounds Debuts an Airy Nature-Inspired Space in the Heart of Hong Kong's Concrete Jungle" - A uniquely bright space in the heart of one of Hong Kong's busiest neighbourhoods.
July 2016
LifestyleAsia Philippines
"Designed by Journeys" - James "JJ" Acuna sits down with LifestyleAsia for his first magazine feature in the Philippines to talk about building cultural centers in China, urban Villas in Manila and documenting design and adventures on his famed blog, Wanderlister.
March 2016